In 1964, Arizona Senator Goldwater gave his acceptance speech for the Republican nomination for the President of the United States to a fired up crowd of conservatives, who had in that same convention, also been audience to one of Ronald Reagan's famous speeches. 
Unfortunately for that crowd, in the presidential election, Democrat Presidential Candidate Lyndon B. Johnson defeated Senator Goldwater, partly due to internal party conflicts within the Republican Party on guiding philosophy and candidate.  
I believe Senator Goldwater's timeless advice is as needed now as ever.  As an Arizona who rewatched Senator Goldwater's address, I can only hope Arizona once again gets the chance to elect a man of similar stature, one of opposing views to the past Senator Jon Kyle & current Senator of Arizona, John Mccain.
Arizona has too long been subject to the notorious reputation of  Senator Mccain and the like-minded, whom find glory in writing, supporting, and sponsoring legislation and agendas that create and birth the Patriot Act, NDAA sections 1021 & 1022, drone wars, gun control schemes, the FISA-NSA surveillance state, among other regulatory beasts in the market.
Mr. Mccain, and those who aspire to his agenda and his kind, before you leave the Senate and free Arizona from your tyranny, take some timeless advice from the great Arizonan Senator Goldwater and do some good for once: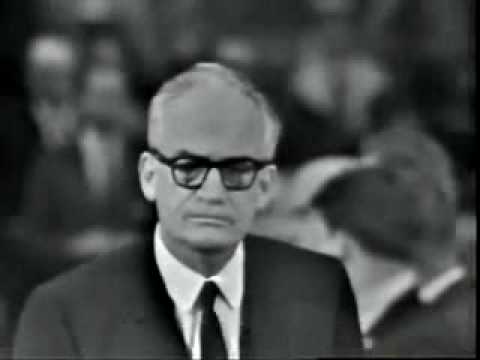 [Full Video of the Goldwater Acceptance Speech, I could not find a video to embed, please comment with a link if you have one]
Below are pearls and select quotations from Arizona Senator Goldwater's 1964 Presidential Nomination Acceptance Speech, and here is the full text for reading, thanks to the Washington Post: 
"The good Lord raised this mighty Republic to be a home for the brave and to flourish as the land of the free-not to stagnate in the swampland of collectivism, not to cringe before the bully of communism."
"Now, my fellow Americans, the tide has been running against freedom. Our people have followed false prophets. We must, and we shall, return to proven ways– not because they are old, but because they are true."
"And this party, with its every action, every word, every breath, and every heartbeat, has but a single resolve, and that is freedom – freedom made orderly for this nation by our constitutional government; freedom under a government limited by laws of nature and of nature's God…"
"…but, ladies and gentlemen, first we must renew freedom's mission in our own hearts and in our own homes."
"Rather than useful jobs in our country, our people have been offered bureaucratic "make work"…rather than moral leadership, they have been given bread and circuses, spectacles, and, yes, they have even been given scandals."
"Tonight there is violence in our streets, corruption in our highest offices, aimlessness among our youth…"
"Small men, seeking great wealth or power, have too often and too long turned even the highest levels of public service into mere personal opportunity."
"Nothing prepares the way for tyranny more than the failure of public officials to keep the streets from bullies and marauders."
"Those who seek to live your lives for you, to take your liberties in return for relieving you of yours, those who elevate the state and downgrade the citizen must see ultimately a world in which earthly power can be substituted for divine will, and this Nation was founded upon the rejection of that notion and upon the acceptance of God as the author of freedom."
"Those who seek absolute power, even though they seek it to do what they regard as good, are simply demanding the right to enforce their own version of heaven on earth."
"And let me remind you, they are the very ones who always create the most hellish tyrannies. Absolute power does corrupt, and those who seek it must be suspect and must be opposed."
"Fellow Republicans, it is the cause of Republicanism to resist concentrations of power, private or public, which enforce such conformity and inflict such despotism. It is the cause of Republicanism to ensure that power remains in the hands of the people."
" It has been during Democratic years that we have weakly stumbled into conflict, timidly refusing to draw our own lines against aggression, deceitfully refusing to tell even our people of our full participation, and tragically, letting our finest men die on battlefields."
"Yesterday it was Korea. Tonight it is Vietnam. Make no bones of this. Don't try to sweep this under the rug. We are at war in Vietnam."
"Today in our beloved country we have an administration which seems eager to deal with communism in every coin known – from gold to wheat, from consulates to confidence, and even human freedom itself."
"…Communism and the governments it now controls are enemies of every man on earth who is or wants to be free."
" I believe that the communism which boasts it will bury us will, instead, give way to the forces of freedom."
"I know that the road to freedom is a long and a challenging road. I know also that some men may walk away from it, that some men resist challenge, accepting the false security of governmental paternalism."
"And I pledge that the America I envision in the years ahead will extend its hand in health, in teaching and in cultivation, so that all new nations will be at least encouraged to go our way, so that they will not wander down the dark alleys of tyranny or to the dead-end streets of collectivism. My fellow Republicans, we do no man a service by hiding freedom's light under a bushel of mistaken humility"
"In our vision of a good and decent future, free and peaceful, there must be room for deliberation of the energy and talent of the individual …"
"We must know the whole good is the product of many single contributions."
"I cherish a day when our children once again will restore as heroes the sort of men and women who – unafraid and undaunted – pursue the truth, strive to cure disease, subdue and make fruitful our natural environment and produce the inventive engines of production, science, and technology."
"We Republicans see in our constitutional form of government the great framework which assures the orderly but dynamic fulfillment of the whole man, and we see the whole man as the great reason for instituting orderly government in the first place."
"We see, in private property and in economy based upon and fostering private property, the one way to make government a durable ally of the whole man, rather than his determined enemy. We see in the sanctity of private property the only durable foundation for constitutional government in a free society."
"We do not seek to lead anyone's life for him – we seek only to secure his rights and to guarantee him opportunity to strive…"
"….we Republicans define government's role where needed at many, many levels, preferably through the one closest to the people involved."
"That, let me remind you, is the ladder of liberty, built by decentralized power. On it also we must have balance between the branches of government at every level."
"This is a party, this Republican Party, a Party for free men, not for blind followers, and not for conformists."
"Anyone who joins us in all sincerity, we welcome. Those who do not care for our cause, we don't expect to enter our ranks in any case."
"And let our Republicanism, so focused and so dedicated, not be made fuzzy and futile by unthinking and stupid labels."
 "I would remind you that extremism in the defense of liberty is no vice. And let me remind you also that moderation in the pursuit of justice is no virtue."
"We must not see malice in honest differences of opinion, and no matter how great, so long as they are not inconsistent with the pledges we have given to each other in and through our Constitution."
"Our Republican cause is not to level out the world or make its people conform in computer regimented sameness. Our Republican cause is to free our people and light the way for liberty throughout the world…"
Thank you for your timeless advice, Arizona Senator Goldwater, and may our current Senators of Arizona and other states only seek to implement it instead of oppose it, as they have done and are doing.  
Ahmed Serag