UPDATE:  AB 351 Heads to Senate Appropriations Committee on August 12 at 1:30 P.M. in room 4203.
UPDATE: SENATE PASSES NDAA NULLIFICATION 71-1
California's Nullify NDAA for 2013 legislation is AB351, and it will be voted on in a State Committee hearing tomorrow, June 25th. Thankfully, the Tenth Amendment Center has sounded the alarm and has already garnered a lot of support, and more is needed to add to the growing list of States nullifying and disobeying tyrannic federal law.
Just as a small marker of the growth and success of nullification, even the pinnacle of the gov-media complex, the Associated Press, who they themselves were wiretapped and spied on, did a hack job on the use of nullification by up to 4/5 of the states, deeming it a crisis.
Join the crisis of repealing immoral, illegal, & tyrannical laws with support for California AB351, which quoting from the legislative text, would:
"prohibit an agency in the State of California, a political subdivision of this state, an employee of an agency or a political subdivision of this state, as specified, or a member of the California National Guard, on official state duty, from knowingly aiding an agency of the Armed Forces of the United States in any investigation, prosecution, or detention of a person within California pursuant to (1) Sections 1021 and 1022 of the National Defense Authorization Act for Fiscal Year 2012 (NDAA), (2) the federal law known as the Authorization for Use of Military Force, enacted in 2001, or (3) any other federal law"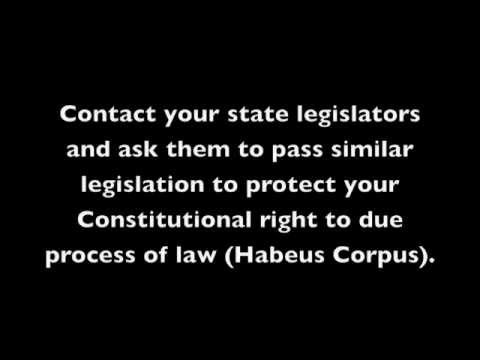 Sections 1021 and 1022 of the NDAA face massive outcry and efforts of repeal because of the gross violations of fundamental Rights and Constitutional Amendments authorized by the legislation:
Violates United States Constitution Article 1 Section 9 Clause 2:
NDAA denies right to Habeas Corpus, a writ by which an individual can be released from unlawful detention
Violates United States Constitution Article 3 Section 3: 
NDAA authorizes indefinite detention against Article 3 Section 3 which provides those charged with treason heightened due process protections
Violates United States Constitution Amendment 4:
NDAA Authorizes indefinite detention and before amended, authorized the detainment of citizens even after an Innocent verdict from a Jury, against the Fourth Amendment right to be free from unreasonable seuizeure
Violates United States Constitution Amendment 5:
NDAA Detainment provisions violate Amendment 5 right of prohibition of deprivations of liberty without due process
Violates United States Constitution Amendment 6: 
NDAA Detainment Provisions violate Amendment 6 right to a speedy public trial, ability to confront witnesses, knowledge of crime, and assistance of council
TAKE ACTION:
Support the AB351 effort to NULLIFY NDAA for 2013 in California through the Tenth Amendment Center and by contacting the following State Committee Members to demand support for the legislation and the repeal of tyrannical laws like the NDAA sections 1021/1022:
Senator Loni Hancock (Chair) (916) 651-4009
Senator Joel Anderson (Vice Chair) (916) 651-4036
Senator Marty Block (916) 651-4039
Senator Kevin de León (916) 651-4022
Senator Steve Knight (916) 651-4021
Senator Carol Liu (916) 651-4025
Senator Darrell Steinberg (916) 651-4006
Ahmed Serag