Raw milk farmers in Wisconsin are are bringing the issue of the FDA war on farmers to political headlines after a Sauk County farmer Vernon Hershberger was charged, and thankfully acquitted, on 3 charges of selling raw milk to willing customers, and who now faces trial on June 13  for one charge of violating a holding order .
Raiding farms, bankrupting owners, and imprisoning farmers are a normalcy in the Wisconsin farmer's relationship with the government he is taxed for.
And it really begets the question, Why is raw milk illegal?
Despite raw milk being *somewhat* permitted in 31 states, and illegal in 19, the Department of Justice goes out of its way, along with numerous other federal agencies, to imprison and raid raw milk farmers, even after a case has been settled in state courts.
And the DOJ's behavior only fuels tyrannical judges who agree in the state judicial systems. I'm reminded of one Judge, Wisconsin Judge Patrick J. Fiedler, who  originally ruled that citizens do not have a right to own a cow, do not have the right to consume milk from their own cow, and do not have the right to produce and consume the foods of their choice.
"no, Plaintiffs do not have a fundamental right to own and use a dairy cow or a dairy herd;"
"no, Plaintiffs do not have a fundamental right to consume the milk from their own cow;"
"no, Plaintiffs do not have a fundamental right to produce and consume the foods of their choice…"
(source)
He ruled in this way in violation of the 1st, 4th, and 9th amendment  enumerated-Rights, and in violation of Freedom of Contract . And in reality, he ruled against our humanity, and it's happening again with Wisconsin raw milk farmer Vernon Hershberger, and with farmers around the country. The Feds are literally waging a war on farming, and whether it is a Wisconsin raw milk farmer or an Iowa crop farmer lays upon the will of an unelected federal agency and the militarized agents it utilizes.
Remember, that in the Declaration of Independence, it is declared that the rights we are endowed with do not come from the Government, but instead our creator, and naturally as a fact of our humanity. These Rights are not justified by the Constitution, simply enumerated. The enumeration of is the recognition, respect, and duty to, but not creation of. Wisconsin farmers are being raided and fined out of business for living their life, selling what they produced to willing customers who are spending what they produced; that is a violation of Natural Rights.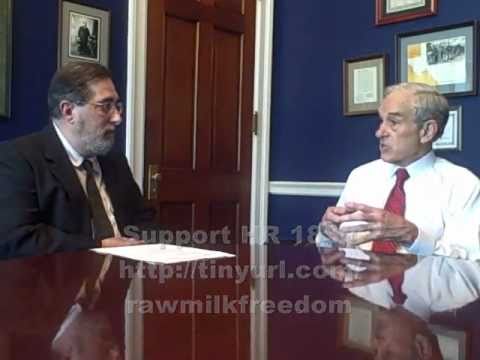 [Dr, Ron Paul on Raw Milk.]
Misguided federal agencies  are aiming in on honest businesses attempting to make money in the current fiat-economy they've created with radical overspending and centralized market control. The FDA and related organizations who utilize government "opportunity", like Monsanto, who eventually hired the aforementioned Judge Fiedler, inspire these raids by creating precedent for laws on what you can and can not put in your own body.
Federal agencies have superseded the Constitution and  have spent tax dollars to raid  farms and business establishments and arrest citizens for legal acts committed by their own will in transaction with other voluntary individuals. In my own opinion, the Wisconsin farmer outcry for a stop to this unconstitutional and immoral raids are completely justified. To add to the economic turmoil that exists because of government intervention in every business and in the monopolized business of creating money, legal raw milk vendors are also to worry about unjustified random raids by Federal agents? This is an example of federal "regulation" at its most transparent. 
I have two concluding points on the FDA's war on farmers. The first is that there is a secretive partnership or marriage between certain companies, like Monsanto, and certain Dairy companies, and the Government. The government overspends and grows, intervening and violating new areas of American life, like food and farming, and these companies utilize the opportunity of big government. They lobby the Government to pass laws that give more power to Government, and then the Government uses that power to benefit the respective companies at the sacrifice of individuals. The cost of government is the sacrifice of the individual.
The second point is that we have become lazy and forgetful. We are forgetful in that we have forgotten it is a duty to self  of every single citizen living in a free society to contribute to maintaining that free society if he or she wishes to hold on to their liberty and the miraculous power of producing property, holding property, and trading property.
We are willing to eat the food farmers make, as many of us did and will this very morning, but are we willing to fight for their Right to make it? Are we willing to at-least protest the government to stop raiding farmers for farming?
The violation of commerce is the violation of the will of 1 man who created and is selling, by his voluntary choice,  and the will of 1 man who has saved and is buying, by his voluntary choice. Where in that wonderful relationship indicates the need or justification for government intervention? Where is it between the 12 hour day a farmer works and the meal of breakfast that fuels the office day of the man eating it is the need for a federal raid?
You and I either own respective bodies and have a Right to live, or there exists a special group of people who have more-say over someone's body than they themselves do. It has long been time for an individual's choice over his own body to take precedence over a government's decision over a body that is not their property.
And it has long been time to end the FDA's war on farmers, and for farmers to live without fear of being raided for simply living.
Ahmed Serag