Senator Rand Paul is leading the fight against drones & the spy state today with his introduction of the 2013 Preserving Freedom From Unwarranted Surveillance Act. 
And it comes with excellent timing . On the same day Rand Paul introduces his bill protecting Americans from drones, the Drudge Report breaks news that for the first time ever, the United States Attorney General has admitted to the murder of 4 Americans by Federal Drones in a letter to Congress.

Congress must be vigilant in providing oversight to the use of drone technology. I will always fight to protect and uphold our 4th Amendment

— Senator Rand Paul (@SenRandPaul) May 22, 2013
The use of drone surveillance may work on the battlefields overseas, but it isn't well-suited for unrestrained use on the streets in the US.

— Senator Rand Paul (@SenRandPaul) May 22, 2013
Senator Paul is  known for uniting civil rights activists against the domestic spy state, massive Rights violations, and executive overreach. In March, Senator Paul captivated the nation by carrying out a 13 hour filibuster and speech (with other Senators) to ignite national protest against the Obama administrations use of drones to kill Americans in secret, without due process, and without Constitutional authority.
Despite March's nationwide outcry against federal drone tyranny, the obama administration refused to answer any of Senator Paul's questions on the executive decision to self-authorize killing Americans without trial or jury, and completely disregarded the seriousness of the crimes in congressional hearings
Yet, two months later, Congress has received a letter admitting to the killings of Americans from Attorney Geenral Eric Holder.
So what has changed? Obama's current IRS targeting and journalist-criminalization scandals have significantly polarized Americans against the executive presidency and BIG government.
Would writing an admittance of impeachable acts while Americans are distracted with the IRS targeting, whistleblower trials, and free speech criminalization help the obama administration? Did the Feds ignore demands for information on the Unconstitutional executive-ordered hits on Americans, only to respond when they could be least noticed?  

Senator Paul is wasting no time  on the agenda behind today's letter-trick  because  it's the same agenda behind what he stood against in the filibuster: tyranny. Paul has called upon Americans to respond to the letter with his legislation preserving Rights from unwarranted surveillance and and placing overdue limits on federal power.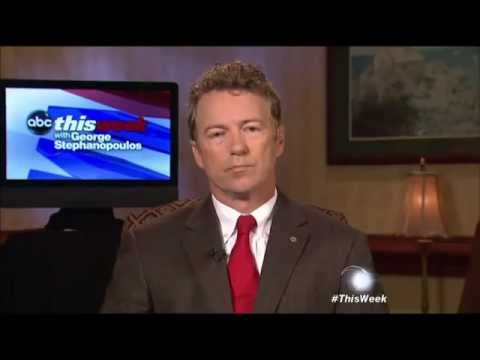 [Senator Rand Paul responds to Obama 5/26/13]
According to the legislative text and official announcement of Paul's bill to limit government drones, the 2013 Preserving Freedom from Unwarranted Surveillance Act takes on drone tyranny and the federal spy state by:
Forcing law enforcement to obtain a warrant from a judge before dispatching drones to fly over our property
Prohibiting Federal Drones being used unless explicit warrant exists
Forbidding the use of evidence illegally obtained by warrantless drone flights from being used in any criminal, civil or regulatory action.
Permitting citizens to sue the government for any violations of this act
Providing exceptions for patrolling the border, to act in the case of imminent danger to human life or high risk of a terrorist attack
This legislation is clearly needed; taking a very quick search into the government's expansion of drone usage, we see drones are being armed with fatal weapons by police departments, being used by agencies like the EPA and FDA to spy and collect information on farms, private companies, and private citizen's property.  And as of today, the highest violation is what the obama administration can finally admit, federal drones have been used to kill four Americans without due process, solely upon the order of the president. 
The approval of domestic drone use means the approval of a domestic surveillance state, and the approval of an executive kill list that uses drones instead of trials to serve "justice".
Silence on this issue is the approval of government drones spying and storing information while flying over neighborhoods, schools, and cities, and keeping that information indefinitely. It is the approval of drones collecting information without warrant, and using that information to imprison and police innocent Americans.
Silence on this issue is the approval of drones to be armed and carry the capability to physically harm, paralyze, and even kill an America, or four, without a trial, and without justice.
Senator Rand Paul's Legislation demands restriction on the gross violation of Rights being committed by federal agencies and their drones, and  is an announcement that Americans will not allow their Natural Rights to be vetoed by an executive branch that believes killing Americans is nothing to answer for.

Once again, it's time to Stand with Rand against drones, and for Natural Rights. 
Ahmed Serag