"The right of the people to keep and bear arms shall not be infringed." "It doesn't say "might be" infringed. Nor does it say "could be" infringed. It read "shall not" be infringed. The current gun-control legislation being proposed unquestionably infringes.For these reasons, I will work diligently to stop any such gun-control legislation. Our Constitution, individual liberty and personal safety depend on it"
-Senator Rand Paul, Washington Times, "A Duty To Preserve the Second Amendment"
BREAKING: FEINSTEIN AMENDMENT FAILS; ALL 7 GUN TYRANNY AMENDMENTS FAIL! KEEP IT UP, LET YOUR SENATORS AND CONGRESSMEN KNOW WHERE YOU STAND: AGAINST GUN TYRANNY.
CALL YOUR SENATOR AT 202-224-3121
Over the coming days, there will be attempts to convince you to trade your essential Liberty for temporal security, to blame pro-gun pro-Rights victories on the NRA and lobbying, as if those were not the tools used by those attempting to strike down individual Rights, and the answer to this agenda against your Rights should be the same one you would give on NDAA, Patriot Act, CISPA, Spying, Warrantless Raids, and so on, NO!   
And just to prove how much your support is needed…in one of the last Free States left in the US, Texas, a Individual Resident of Texas and war Veteran was illegally arrested and firearms confiscated for "looking threatening", all in-front of his children. 
Thanks to Campaign for Liberty, The 16 "republican" senators who voted for cloture on S. 649, which led to the unfortunate victory for S. 649 for Gun Control/Registration/Confiscation 68 to 31. are as follows:
Lamar Alexander (R-TN), Kelly Ayotte (R-NH), Richard Burr (R-NC), Saxby Chambliss (R-GA), Tom Coburn (R-OK), Susan Collins (R-ME), Bob Corker (R-TN), Jeff Flake (R-AZ), Lindsey Graham (R-SC), Dean Heller (R-NV), John Hoeven (R-ND), Johnny Isakson (R-GA), Mark Kirk (R-IL), John McCain (R-AZ), Pat Toomey (R-PA), and Roger Wicker (R-MS)
The 2 Democrat Senators who joined The Rand Paul-Ted Cruz- Mike Lee led resistance against gun "control"/registration/confiscation bill are:
Senator Mark Begich of Alaska

Senator Mark Pryor of Arkansas

The Representatives within the house-where S. 649 will have to achieve victory-would have to be brave to bring S. 649′s house duplicate to the floor because they've seen the backlash that Americans express through email, calls, and protest when it comes to gun "control", registration, and confiscation.
While this bill's future in the house looks dim, the gun registration agenda's planners are out in full force, symbolized by recent news from the obama administration that he plans on deploying one of the Newtown shooting victim's moms in his weekly radio-propaganda address to push gun registration.
THE GOOD NEWS IS WE CAN CONTINUE THE FIGHT! THE HOPE FOR A FILIBUSTER STILL LIVES AND THE FIGHT BACK IS GUARANTEED, & THE NUMBER OF AMERICANS & OUTCRY AGAINST S649 ONLY GROWS! 
ORIGINAL: 
As of 5AM ET on April 11, 2013, the top articles and most visited and commented pages across the major news sites are regarding tyrannical legislation that is upon Americans nationwide, SB 649, federal legislation for gun-control and gun-registration as a prequel for gun-confiscation.
13 Senators, led by Senators Rand Paul, Ted Cruz, and Mike Lee, signed letters to Senate Majority Leader Harry Reid guaranteeing a filibuster & full-stop against any attempts of gun-control, gun registration, and/or gun confiscation.
These 13 brave Senators are as follows: 
Senator Rand Paul of Kentucky

Senator Ted Cruz of Texas

Senator Mike Lee of Utah

Senator Moran of Kansas

Senator Marco Rubio of Florida

Senator Ron Johnson of Wisconsin

Senator Jim Inhofe of Oklahoma

Senaotr Mike Enzi of Wyoming

Senator Pat Roberts of Kansas

Senator Mike Crapo of Idaho

Senator Dan Coats of Indiana

Senator Jim Risch of Idaho

Senator Richard Burr of North Carolina 
Despite nationwide protests against any form of gun "control", President obama, Senator harry reid, and other tyrannical legislators and agencies are forcing and pushing legislation such as S.649 and dictates that they claim are good and necessary for public safety; whether the public agrees or even knows is of no concern. It's likely that even S. 649 has backdoor options in recognition of and in case of failure, through federal agencies, exemplified by the ATF's push for a massive national database.
Obama, in defense of gun registration, at a speech he organized, full of emotional propaganda and manipulation, and in-front of a police force all wielding guns, went as far to say:
"I am constrained by a system our founders put in place" 
And that is his defense against carrying out gun registration in America and what the government-media complex is calling anti-government types, who refuse to compromise on their RIGHT TO SELF-DEFENSE, and that you need-not worry, because he is constrained by the Constitution, even though he addresses it in with a negative connotation, as if it were a blockade of something good, and continually violates it by pushing gun-control legislation, signing the Patriot Act, signing NDAA, signing internet control-legislation, ordering drones against Americans, and so on.
We are supposed to trust a man, the senators, czars, and legislators behind him, who continually pre-apologize for violating the Constitution, and then go on to do it against outrcry and without authority, and continue to do it more-so as time passes, to use S 649 to create a national registry and background check system for all gun sales and transactions, and not use it maliciously and/or for eventual gun confiscation?
As any once-victim of gun "control", gun registration , and gun confiscation will tell you, the tyrannical agenda represented by SB 649 and the events and votes to come are of the most important events in America's-and any would be nation's-history: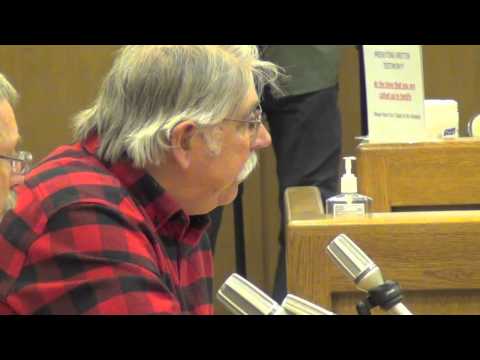 "You don't know what freedom is because you have never lost it"
-Manuel Martinez, Communist Gun Control Survivor, Gun Control Hearing [Source]
And because many individuals, organizations, and states know of the horror that gun "control" and its planners have carried out on other nations and wish to carry out upon our own, the backlash against S 649 and related legislation and efforts is infinitely growing.
In Connecticut  where a "gun control wishlist" was recently passed, including registration, magazine bans, and gun bans, major gun-manufacturer PTR will leave and take its business elsewhere.
In Colorado, where similar gun control legislation recently passed, 37 out of 62 Sheriffs are now suing the federal government, and public outcry grows. Major gun accessory manufacturer Magpul has announced it is leaving Colorado among gun-control concerns. On the flip side of the coin, the same tyrannical legislators who passed CO gun control are pushing a bill to deliver "police powers" to the Secret Service, a foreshadowing of what is planned with passage of nationwide registration. 
Gun Manufacturer Beretta is taking its jobs, business, and profits to another state, as it recently announced it is leaving Maryland over gun-control issues.
New York Citizens are planning protests and are in uproar over actual gun-confiscation, including 2 Citizen's property & guns being confiscated because they are prescribed anti-anxiety medicine, and the NY Safe Act's first victim, a Veteran. The tyrannical gun confiscation occurring in New York is another foreshadowing of what follows strict gun control and registration. 
Texas is gaining the presence of a Colt – AR-15 Manufacturer because of its more free laws regarding guns, following the public invitation of gun businesses from Governor Rick Perry & Texas Lawmakers such as Senator Ted Cruz.
And this backlash is justified by the aforementioned federal bullying of free men and women, gun owners, gun manufacturers, and law abiding citizens, and even more exemplified by such events as the Federal seizure and closure of the Newtown gun business that happened to sell guns to an owner who did not take proper and common firearm storage precautions and let it end up in the hands of a crazy individual. Additionally, the infamous FPS Russia Georgia resident's farm and property being raided by near 50 agents occurred just this morning, only to leave the agents empty handed but mouthing off threats of confiscation "because of how the firearms looked".
As the famous quote of Patrick Henry formidably states, 
"They tell us, sir, that we are weak; unable to cope with so formidable an adversary. But when shall we be stronger? Will it be the next week, or the next year? Will it be when we are totally disarmed, and when a British guard shall be stationed in every house? Shall we gather strength by irresolution and inaction? Shall we acquire the means of effectual resistance, by lying supinely on our backs, and hugging the delusive phantom of hope, until our enemies shall have bound us hand and foot?"
What compromise is possible between the Rights of a free man and the monopoly on force that is government? How can we compromise on a Natural Right? If they clamor for magazine bans, *certain* gun bans, gun registration, national databases, gun taxes and insurance mandates, deputizing doctors, report your neighbor programs, and gun owner demonization, what is next?
What, besides the confiscation of guns, which I remind you, is already occurring in New York, occurs after forming a national database of gun owners, gun businesses, their homes, their property, their communications, their finances, and their interactions?
What happens is the complete assassination of a Country's awareness and understanding and benefits of a fundamental Right of individuals, subjecting every American who owns a gun, values the Right to,  or participates in the related business, to investigation, accusation, search, seizure, tax, raid, harassment, assault, and arrest by armed agents drunk on authority and unwarranted power.
And that situation itself is precedence to do the same to every Right enumerated before the Second Amendment, and every Right enumerated following the 2nd Amendment of the Constitution of the Untied States of America.
The cause for your defense or eventual defense, pending my convincing and your thinking, is the Right that was enumerated by the Founders choice of the word "enumeration" in the 9th amendment, which reads,
"The enumeration in the Constitution, of certain rights, shall not be construed to deny or disparage others retained by the people"
The enumeration of certain Rights means that the previous and following Rights highlighted and explained within the Constitution were not established with the text and action, but recognized and respected. This text within the Constitution was specifically chosen to highlight the facts that are Natural Rights, that men are born with Rights as much apart of them as their arm, and their legal mention within a document of independence and constitutional law is not their establishment or justification, but merely recognition of their existence and ownership by free men and women.
The time for America to stand for something that is owned by no government, party, organization, or group, but instead, individuals, is now.
Standing for the Second Amendment, against S. 649, for the direct benefit this Right receives from the filibuster of Senator Rand Paul & the 12 additional Senators, is standing for a Natural Right, for the fact that men are born with Natural Rights, and that the American government is restrained, upon its creation, from infringing on Natural Rights by the very justification of this government's creation, the individuals who chose to found this country with the Declaration of Independence and Constitution.
I, Ahmed Serag, pledge to Stand with Rand, Stand with the 13 Senators filibustering the entire gun control agenda, Stand against S. 649, and ask you to do the same. 
"We Mutually Pledge To Each Other Our lives, Our Fortunes, and Our Sacred Honor"