Nullification is the right of a state and free people to invalidate a law, in this instance, a federal law,  that is deemed unconstitutional or in violation of natural rights.
That same Right of Nullification that was called upon by Jefferson and Madison has been called upon in Arizona. As the Tenth Amendment Center reports, Arizonan and Business man Jack Biltis has delivered around 320,000 signatures to the Arizona Secretary of State to have a Nullification Amendment to the Arizona Constitution voted upon by Arizona citizens.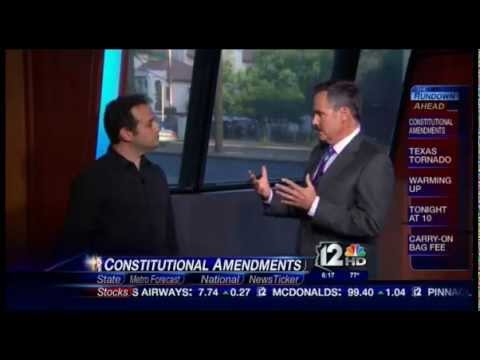 Taken from the text of the Nullification Amendment, or Checks and Balances Amendment:
"Be it enacted by the People of the State of Arizona:
The Constitution of Arizona is proposed to be amended as follows if approved by a majority of the votes cast thereon and on proclamation of the Governor.
Section 1. Article II, Constitution of Arizona, is amended in Section 3 as follows:
Section 3. Supreme law of the land
The Constitution of the United States is the supreme law of the land AND MAY NOT BE VIOLATED BY THE FEDERAL, STATE, OR ANY LOCAL GOVERNMENT. TO PROTECT THEIR FREEDOMS AND PRESERVE THE CHECKS AND BALANCES OF THE UNITED STATES CONSTITUTION, THE PEOPLE OF ARIZONA ARE EMPOWERED TO REJECT ANY FEDERAL ACTION THAT THEY DETERMINE VIOLATES THE UNITED STATES CONSTITUTION. IN ADDITION TO ALL OTHER AVAILABLE LEGAL REMEDIES, THEY MAY DO SO BY 1) A MAJORITY OF VOTES CAST IN AN INITIATIVE OR REFERENDUM, OR 2) A MAJORITY VOTE OF THEIR REPRESENTATIVES IN BOTH HOUSES OF THE LEGISLATURE WITH THE SIGNATURE OF THE GOVERNOR."
As Jefferson claimed within the Kentucky Resolution, States  "have the right, and are in duty bound, to interpose, for arresting the progress of the evil, and for maintaining, within their respective limits, the authorities, rights and liberties, appertaining to them."
It is the duty of states, not just Arizona, but states, to adopt and more importantly, act on Tenth Amendment Resolutions.  Whether you are a Conservative in opposition to Obamacare, a liberal in opposition to a CISPA, or a Libertarian in opposition to NDAA, The Patriot Act, the Federal Reserve, and so on, nullification is the tool for states to individually, and thus, eventually, collectively, liberate the markets and private individuals who create them, allowing for choice and voluntary interaction and action where opposing ideologies each have the opportunity to do as they wish without imposing on one another's rights.
Assist in securing a victory for Nullification in Arizona, and push for another within your own state.
Support the Nullification/Checks and Balances Amendment to Constitution of Arizona HERE (volunteer) or HERE (donate), and read more about Nullification HERE.
The current Arizona Constitution can be seen HERE. 
Don't forget to check out Arizona's other Constitutional hope, Martin Sepulveda, Constitutional candidate for Congress. 
Ahmed Serag