There are two declarations I would like to make:
Operation Fast And Furious, approved by and related to Attorney General Eric Holder, was not just a gun-smuggling operation in which working weapons were sold to Drug Cartels by the Attorney Generaland Federal Agencies, causing the death of 1 Agent, Brian Terry, but was also a deliberate attempt to cause gun violence in an effort to push gun control on Arizona and consequentially, other States.
There is an active cover-up of the true intentions of operation fast and furious, along with a shadowy attempt to bring stricter and tyrannical gun control to each of the respective members of the United States, with much of the planning currently occurring in New York at the  United Nations Arms Treaty Discussion.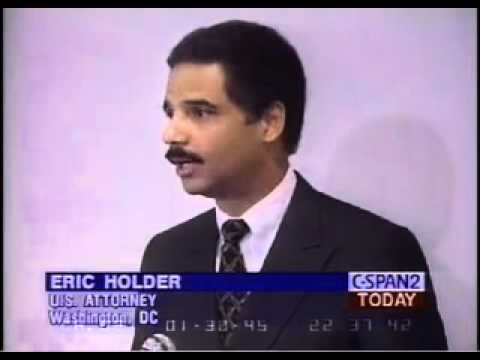 [A younger Eric Holder discussing his plans for Gun Control in the United States]
 It's no secret that the intentions of the Holder Justice Department, the Obama Administration, just as that of a Romney Administration would be, are to limit and eventually end the private ownership of guns and self-defense weapons by free, lawful, and individual citizens.
Thankfully, we have a strong Second Amendment that highlights the Natural Right of an Individual to defend himself,  and we have a large percentage of the population that firmly believes in the Second Amendment as a duty, that it is the duty of every family to safely own and operate a gun.
"No free man shall ever be debarred the use of arms" -Thomas Jefferson
As with most solutions of government, their solution to the problem they have with expanding gun control is destructive. As the Attorney General himself points out in the above video, part of the solution is to brainwash people into thinking guns are bad. He doesn't stop and explain why what is allegedly right, what is allegedly the truth-getting rid of guns-needs to utilize brainwashing to be agreed upon and believed in.
The Attorney General's destructive solution doesn't just stop with brainwashing. Holder and those like him know that to compete with the conviction and truth behind private gun owners, fear has to be used.
Eric Holder believed it was a good decision to use Taxpayer dollars to purchase weapons and hire more federal agents to sell weapons to Drug Cartels, which are responsible for over 50,000 deaths in recent years. Holder claims Operation Fast and Furious's primary goal was to deliver weapons to drug cartels in order to track them.
With that goal comes certain knowledge. Making the goal one of tracking the weapons means it was known that these weapons would be in the hands of Drug Cartels who have used weapons against Mexican and American Citizens before. It was known that working rifles would be put in the hands of dangerous Cartels. It was also known that these rifles would be moving, possibly being used in operations against this country, because they were being tracked. 
That means that the Attorney General knew that there would be violence and consequentially, an opportunity to utilize that violence and fear. What better way to push for gun control and more federal authority than to create an operation that pinned violence to rifle sales and gun ownership in border states, like Arizona and Texas, which also happen to be strong Second Amendment States?
Surely, some of these questions were flowing through the minds of Representatives of the House who voted to hold Eric Holder in contempt, but now must seek a civil suit because of documents falling to executive censorship by Obama and the unwillingness of the Justice Department under Attorney General Holder to charge Holder.
 " To disarm the people is the best and most effectual way to enslave them"- George Mason 
And if there was not a reason to charge Eric Holder, and there exists no reason to be suspicious of the intentions of Operation Fast and Furious, then why the need for the executive censorship power by Obama, why the need for shutting down protests against Eric Holder, and why the need for the uncooperative nature of Justice Department employees allegedly loyal to the Constitution, yet immobile in charging an Attorney General who willfully violated the Constitution?
Coincidentally, the push for delivering authority over gun ownership and legislation to the United Nations within the United States Congress is being led by Arizona Representative Grijalva, the very state where the Fast And Furious situation  is centered around.
According to the Daily Caller,
"…the U.N. wants to implement international gun registration requirements, bans on commonly owned firearms, tracking and registration of ammunition purchases, and create a new U.N. gun control bureaucracy"
On one side of the country, you have Holder and his gang creating International trouble with Cartels and guns, and on the other side, Congress,  attending meetings discussing an international legislator legislating for the United States of America in the area of guns.
The Congress has no authority to delegate legislative privileges to an International Body, nor is it Constitutional to do so, or to threaten the Second Amendment.
If you value the Natural Right the Second Amendment of Constitution highlighted, I urge you to call your representative and senator, and tell them to join the civil suit against Eric Holder, and to oppose all bills whose primary or sub-primary goal is gun control or sacrifice of rights.
Ahmed Serag