UPDATE: AUGUST 26, 2012, RON PAUL We Are The Future Rally, Tampa, Florida, RAND PAUL Announces Audit The Federal Reserve, which passed in House, has 31 CoSponsors in Senate. KEEP CALLING AND IT WILL COME TO A VOTE. (RAND/RON PAUL SPEECH AT RALLY)
UPDATE: LIVE STREAM AUDIT THE FED VOTE, Now estimated 2PM Eastern
UPDATE: Campaign For Liberty has just reported that AUDIT THE FED VOTE may be moved to Wednesday, July 24, 2012, BUT, DEBATE WILL BEGIN TOMORROW. Reasons unknown, possibly to harm momentum behind Audit the Fed (personal opinion). 
UPDATE: Federal DEBT Increases by 1 TRILLION FIFTH YEAR IN A ROW
UPDATE: Federal Reserve considering MORE PUMPING
UPDATE: AUDIT THE FED BILL HAS 274 Co-Sponsors, KEEP IT UP! 
CONTACT CONGRESS: CONGRESSIONAL DIRECTORY
UPDATE: Ron Paul's Audit the Fed Bill Will be Voted upon on Tuesday, July 24th! 
UPDATE: Ron Paul's Audit The Fed May be Included in National GOP Platform, possibly what discussion between Rand Paul and Mitt Romney was over
UPDATE: Campaign for Liberty is holding an AUDIT THE FED MONEYBOMB. You can help out HERE.
Congressman Ron Paul's Federal Reserve Transparency Act, HR 459, has been given a July vote and currently has a House Majority in support of  an Audit of the Federal Reserve. Ron Paul's final months of service as a Congressman may yield an Audit of the very institution he has spent the last 20+ years railing against and warning about. 
Senator Rand Paul waits to push forward S. 202, HR 459′s counterpart in the Senate, where such a majority is not apparent. Surely the Senate will be the toughest step in getting an Audit of the Fed signed and executed, but a monumental task attracts monumental men and women willing to spread the information. 
The task that falls upon the Patriots of this Country is to send the Federal Reserve a message, that the pressure on them does not end with Ron Paul, and that upon the 100th year of the Federal Reserve Charter, its repeal begins.
According to the New American, polls have revealed that 4 out of 5 Americans are in support of an Audit of the Federal Reserve. An audit is a bipartisan issue, and it shouldn't be difficult to convince others to contact their Senators and representatives to make sure they are voting YES on these bills. All an Audit does is create transparency and increase accountability, and if information revealed through an audit reveals that the Federal Reserve was acting Unconstitutionally and illegally, better so than not so.
 The Federal Reserves record of accountability is null and censored. With the only partial audit ever carried out, auditing the time between December 1, 2007, and July 21, 2010, it was revealed that the Federal Reserve had loaned out 16.1 TRILLION dollars to foreign and domestic banks, and other nations. 
A full audit has never been carried out by the Federal Reserve, except internally and not full.In an interesting hearing seen below, you can watch an internal federal reserve auditor admit she lost 9 TRILLION to Congressional Members: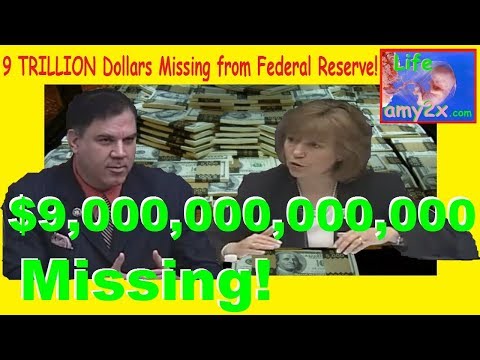 And the spending and loaning by the Federal Reserve continues to occur. The Federal Reserves portfolio has tripled since the 2007 financial crisis, reaching 2.8+ TRILLION in holdings, 1.6+ TRILLION in securities, and 800+ BILLION in mortgage-backed securities [Source].
Despite the current debt crisis, the Federal Reserve's balance sheet continues to grow and it continues to hint that it will use more quantitative easing and monetary inflation in its attempt to pretend to fix the economy. What the Central Planners at the fed don't hint at or discuss is how you centrally plan an free market economy, principally based on spontaneous and voluntary commerce between free individuals.
What the Central Bankers do not discuss is how you maintain price stability with a currency based on nothing but "trust", and nothing of value. They won't explain how prices are to be stable and employment high when they set the interest rates near 0 percent, signaling to the market that there is a high amount of savings and it is time for investment when really, the opposite is true.
And what the Federal Reserve most definitely does not discuss, is how you maintain the value of the dollars within American savings accounts and wallets, when with every dollar printed, the value of existing dollars is lowered. Newly created dollars are spent by government agencies and government created monopolies, without the consequential price inflation because they are given to them first and spent by them first. As that newly created money works its away through the economy, the dollar becomes a little less valuable and prices consequentially rise. Those who aren't in bed with the government get the short end of the stick, or the pointy end of the blade, because not only is the newly created money paid for by them, but they must also suffer the price inflation that comes after.
Every time the Federal Reserve creates money, Americans pay higher prices with weaker dollars everywhere ranging from the grocery store to the gas station to the electronics store and beyond.
The Federal Reserve has too much power and has deliberately acted upon methods that have been proven to destroy economies and nations at a cost paid for by the American people. The time for an Audit of the Federal Reserve is now.  The time for Americans and Patriots to stand up and save their country is now.
Spread the information and tell your representatives to support HR 459 and senators to support S. 202.
Help Campaign for the Liberty Audit the Fed
Ahmed Serag