When it comes to the quest to End the FDA Police State, Senator Rand Paul is working to finish what his father, Presidential Candidate Ron Paul , and Patriots around the country started. 
Senator Rand Paul introduced Amendment 2143 to S.3187, the FDA Re-authorization bill, which has three Constitution-restoring sections (Amend. 2143) which rein in the power of the tyrannical FDA, and attempt to restore some justice to the justice system.  
The vote is Thursday, May 24th, 2012, so I recommend everyone call their Senators and tell them you want a YES vote on Rand Paul's amendment.
You can find & contact your Senator HERE
You can contact and thank Senator Rand Paul HERE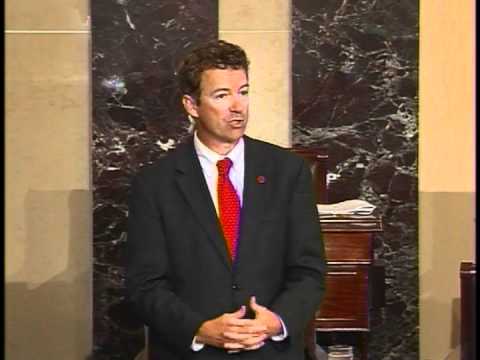 [Rand Paul introduces Amendment 2143 to S. 3187 on Senate Floor]
First Section, reins in FDA's over-regulation of alternative supplements and industry:
In this first section, Rand Paul highlights the hypocrisy of the FDA, granting pharmaceutical companies unlimited ability to claim benefits as they please with their pills, but when it comes to alternative supplements, especially the ones that many people actually use, the FDA censors the products of small businesses and takes away their first amendment rights to market their products as they please.
The FDA consistently makes small supplement companies face the threat of armed-raids, pay exorbitant fees & taxes, and deal with regulation that requires expensive lawyers which only big Pharmaceutical companies can afford, thus leading to smaller companies declaring bankruptcy and clearing any and all competition for the FDA-sponsored-pills.
This first section of Rand Paul's bill would also prevent the FDA from censoring scientific articles on nutrients and articles which oppose their ideology. This is one of the most important Amendments in regards to Food Freedom just because of this small part.  
Section 2 of Amendment 2143 moves to Disarm FDA Officials and stop armed-raids:
"I think we have bigger problems in our country than sending armed FDA agents into peaceful farmers' land and telling them they can't sell milk directly from the cow" -Senator Paul [Source]
 The FDA is well known for raiding family farms and small businesses to seize and destroy product, illegally arresting Citizens, and slapping the victims of their raids with cruel and unusual bails fit for those who commit murder.
This section of the Amendment seeks to eliminate sending armed bureaucrats onto farms, and highlights the fact that there are over 40 Federal Agencies which use arms, without being officers or having that certification. If armed officers are required to raid a family farm (can hardly see the need for this) then there are appropriate agencies which already exist ( Law enforcement, FBI).
Section 3 of Amendment 2143 seeks to restore the Mens Rea requirement:
From what I understand, a Mens Rea requirement is a requirement for the alleged "criminal" to have known that what he or she did was wrong before being charged, as opposed to Actus Reus requirement which is the requirement of an objective criminal action to actually charge someone with a criminal crime.
This section seeks to stop the arrest of individuals who violate a regulation without knowing they were breaking a regulation. To slide of on a tangent here, this happens everyday. There are thousands of regulations introduced every year, which are actually laws, but seek disguise under the title "regulation", that innocent non-violent Citizens end up in jail for. Additionally, the fines behind breaking one of these regulation-laws are always in the thousands, containing the ability to destroy a person or families life.
I urge everyone to contact their Senators and understand why the actions of the FDA are immoral and Unconstitutional. 
UPDATE: Senator Rand Paul's Amendment 2143, failed by a vote of 78-15, you can see who voted for the bill and to STOP the FDA's Police State Powers HERE.
If your Senator is not on that list (NO Democrats voted Yes), you should contact them, express your disapproval & reasoning, and why you will be VOTING THEM OUT. 
Ahmed Serag