As calls for Liberty spread and strengthen across the Nation, many States are taking aim at the National Defense Authorization Act provisions which seek to lay waste to the Constitution. Arizona, which has successfully passed the NDAA Nullification Bill in the house and senate, now waits to see if Governor Brewer will sign or veto the bill.
Here are just some of the violations of the NDAA in regards to the Constitution-the SUPREME law of the land:
Violates United States Constitution Article 1 Section 9 Clause 2:
NDAA denies right to Habeas Corpus, a writ by which an individual can be released from unlawful detention
Violates United States Constitution Article 3 Section 3: 
NDAA authorizes indefinite detention against Article 3 Section 3 which provides those charged with treason heightened due process protections
Violates United States Constitution Amendment 4:
NDAA Authorizes indefinite detention and before amended, authorized the detainment of citizens even after an Innocent verdict from a Jury, against the Fourth Amendment right to be free from unreasonable seuizeure
Violates United States Constitution Amendment 5:
NDAA Detainment provisions violate Amendment 5 right of prohibition of deprivations of liberty without due process
Violates United States Constitution Amendment 6: 
NDAA Detainment Provisions violate Amendment 6 right to a speedy public trial, ability to confront witnesses, knowledge of crime, and assistance of council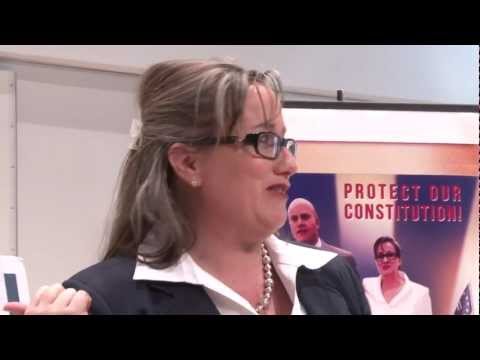 [Great Video explanation of SOME of the problems with the text of the NDAA]
SB 1182, The Arizona NDAA Nullification Bill, explicitly states:
"This state and any agency of this state shall not provide material support or participate in any way with the implementation of sections 1021 and 1022 of the national defense authorization act of 2012, Public Law 112‑81, against any citizen of the United States"
It effectively criminalizes any type of participation with agencies attempting to enforce this Unconstitutional law, and rightly so. Nullification is the only answer when the law assumes it can supersede the supreme law of the land- The Constitution.
With Virginia fully passing its own NDAA Nullification Bill, the Anti NDAA nation zooms in on Arizona, and it is most definitely Arizona's time to Stand Up and become the Second State in a line of many, such as South Carolina, in demanding Liberty and respect for the rule of law.
It is possible to regain our individual rights and restore our individual freedoms to live our daily lives as we see fit without threat of seizure of property or threat of detention, and it requires HUMAN ACTION. 
Governor Brewer has until May 15th to sign this bill into law, so action must be taken right away.
Governor Brewer has a few office phone numbers which seem to lead directly to answering machines, which is why I advise emails first, along with sharing and informing those you know to do the same.
Governor Brewer Phone:
Phoenix Office: (602) 542-4331
Tucson Office: (520) 628-6580
Fax Number: (602) 542-1381
Sample Email:
Hello Governor Brewer and Office Employees,
I am contacting you today in support of Liberty, the Constitution, and SB 1182, the Arizona NDAA Nullification Bill. I urge Governor Brewer to immediately sign SB 1182, and issue a public announcement that the State of Arizona and its citizens will not be subject to indefinite detention, absent of a right to trial, jury, and appeal, but instead, subject to the Natural Rights guaranteed and echoed within the Constitution of these United States.  The Supreme Law of the Land is the Constitution, and for a law to supersede the Constitution, as the NDAA Indefinite Detention provisions do, would imply that the Constitution is no longer relevant. I do not believe Governor Brewer is willing to agree to that, and thus, should sign SB 1182.
Simply not agreeing to an Unconstitutional law is not enough, and waiting is not the answer either. Are the citizens of Arizona and the United States to wait until their neighbors are being arrested, never to be seen again? Are we to wait until action is barred to take action? Or will the State of Arizona join Virginia in declaring that the Constitution is the Supreme Law of the Land, and that the Free Individuals who reside on this land have the right to life and to live freely? This important decision rests within the hands of Governor Brewer, and I only remind her of the Oath to the Constitution that her and other employees of the Citizens have taken.
Governor Brewer, Sign SB 1182, and you will have the support of the Citizens and Patriots within your State and around the Country; more than that, you will have taken a stand for the Constitution and for the Natural Rights this very Country was Founded upon.
Ahmed Serag
Related Links:
Arizona's Constitutional Candidate for Congress
Arizona Sovereignty Legislation Has Statewide Vote November 2014