Why is Raw Milk Illegal?
Recently, I wrote an article on Freedom of Food and what I think that means, also mentioning a Wisconsin Judge who declared that Americans do not have the right to choose what they eat or what foods they can produce, based on a court case dealing with Raw Milk farmers.
The first release I saw on this article originated HERE, and I will now continue this coverage based off THIS ARTICLE, which has brought to light the fact that the Judge Patrick Fiedler of Wisconsin, who originally ruled against Raw Milk farmers, the citizens of the United States, and the Constitution, has now retired to work for a law firm that has represented Monsanto.
This Judge originally ruled that citizens do not have a right to own a cow, do not have the right to consume milk from their own cow, and do not have the right to produce and consume the foods of their choice.
"If people let government decide what foods they eat and what medicines they take, their bodies will soon be in as sorry a state as are the souls of those who live under tyranny." -Thomas Jefferson
He ruled in this way in violation of the 1st, 4th, 9th, and 10th amendments of the Constitution of the United States and in violation of Freedom of Contract  (in my opinion).  And in reality, he ruled against our humanity. Remember, that in the Constitution, it is declared that the rights we are endowed with do not come from the Government, but instead our creator, and also as a fact of our humanity.
It astonishes me that this is even an issue in 21st Century America, where the Constitution is still the law of the land and the people are still able to think freely, move freely, and act according to the Constitution, freely. 
It should not surprise anyone that the question, Why is Raw Milk Illegal, is one I constantly ask myself and try to explain (Look up Ron Paul & Raw milk for the answer). It's a complete violation of our rights as humans. To put it lightly, taxpayers payed taxes to the Government, who played a major role in the ongoing collapse of the economy, and is in debt beyond reason, then the Government spent this taxpayer money on agencies that conduct open raids  on Raw milk farmers in a down economy, harassing their businesses and violating their rights.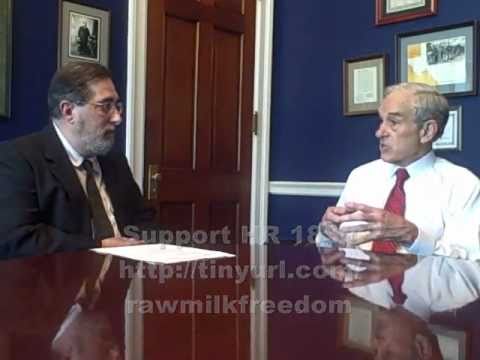 [Presidential Candidate and Front Runner Ron Paul on Raw Milk. Dr. Ron Paul introduced HR 1830, to free Raw Milk.]
And when I read articles like the aforementioned, detailing that Judges slapping down tyrannical laws retire to work for Monsanto or have worked for Monsanto, it only further increases my confidence in the fact that the answer to the question, why is raw milk illegal, has two answers. Before I pursue that, I'd like to point out that I said "judges", not "judge". Look up Judge Clarence Thomas and his relationship to Monsanto.
The first is that there is a secretive partnership or marriage between certain companies, like Monsanto, and certain Dairy companies, and the Government. These companies lobby the Government to pass laws that give more power to Government, and then the Government uses that power to benefit the respective companies.
The second answer is that we have become lazy and forgetful. We are forgetful in that we have forgotten it is a duty of every single citizen living in a free society to contribute to maintaining that free society if he or she wishes to hold on to their liberty and their free market. We are lazy in that we do not pursue information on our own rights and on the companies and officials influencing those rights and our dollars. The only way this country will advance in a manner beneficial to all parties, left, right, or center, is if the citizens of this country decide to stand up for themselves and their liberty through the Constitutionally-approved manner detailed in, where else, the Constitution!
I ask that my fellow Countrymen and fellow humans immediately take the time to learn about their rights, the people who have worked tirelessly to maintain those rights, and the methods of which we can all maintain and advance those rights.
I ask that you do this now because although I or you may not be experiencing current hardship or violation of our own rights, others are. And one of the most interesting facts about our individual rights, is that they are collective in progression and regression. When one person is stripped of their rights, and it is considered lawful, we are all stripped of our rights.
And when an individual or a group of people tirelessly work to win a victory for our rights, and succeed, that victory is not only won for their own rights, but for all of us. To end this article, I ask that you explore that fact and act accordingly.
Ahmed Serag
Related Posts:
Rawesome Foods Raid: Safety or Tyranny